ban
=HOG= __Super_6__5__

Administrator
4 months 2 weeks ago
#19041
by

=HOG= __Super_6__5__
Replied by
=HOG= __Super_6__5__
on topic
ban
Danielj15 wrote:

=HOG= pwner_pt wrote: every player is allowed to come to our discord and to use our channel...but that doesn´t include calling the admin shit on his head and insult him


okay sorry what? we did not come and call any admin "shit on his head" or insult an admin i may of called my mates a cunt and if you thought it was directed at you sorry..

i am waiting for your demos to update and i will make a video showing i killed dexter in self defense
there is not "self defense" clause in the rule set. imagine how many tk's there would be if it were allowed. Im growing tired of these problems, you were given yet another chance and failed to heed my warnings.
The topic has been locked.
Danielj15

Topic Author

Junior User
4 months 1 week ago
#19059
by

Danielj15
Replied by
Danielj15
on topic
ban
okay i understand that and can see how if people were allowed to tk for "self defense" it would cause major problems and i am sorry for that.

super how is a ban for a tk fair ? yes a kick maybe a tb but a ban?
The topic has been locked.
4 months 1 week ago
#19063
by

=HOG= pwner_pt
Danielj15 wrote:

=HOG= pwner_pt wrote: + afterwards you commin to discord with your idiot friends startin insulting and trolling


i am sorry how were we trolling? prta ts went down so we went "eh fuck it hog discord has voip go there" so we joined the pr channel and started talking in the project reality channel?
actually one of your other pussy ass friends sent me that...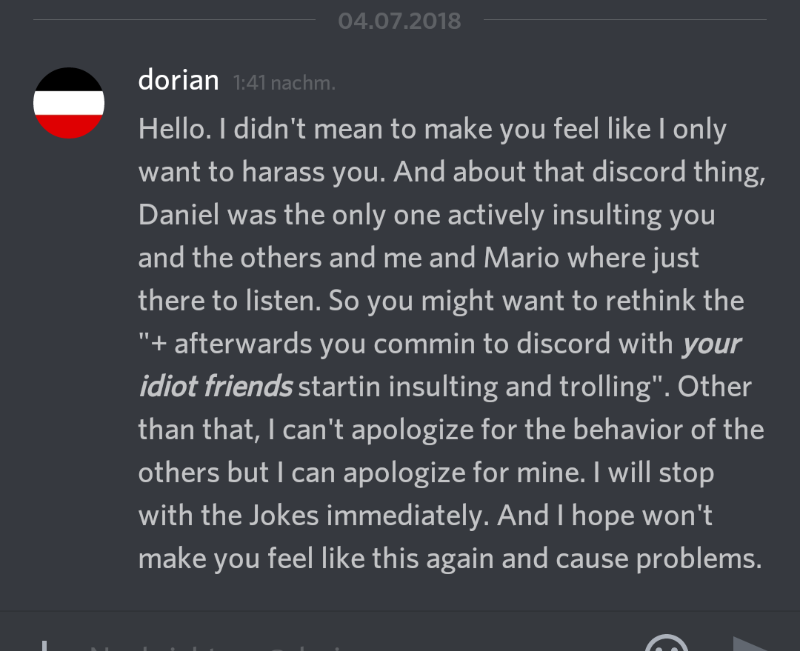 The following user(s) said Thank You:
=HOG=Rageblade
The topic has been locked.
Time to create page: 0.295 seconds